Fairnessprogramm & Gütesiegel für ein FAIRES Miteinander am Arbeitsplatz
Mit unserem Fairnessprogramm und dem ATRACT Gütesiegel zeigen unsere Mitgliedsbetriebe, dass sie FAIRE Bedingungen am Arbeitsplatz garantieren.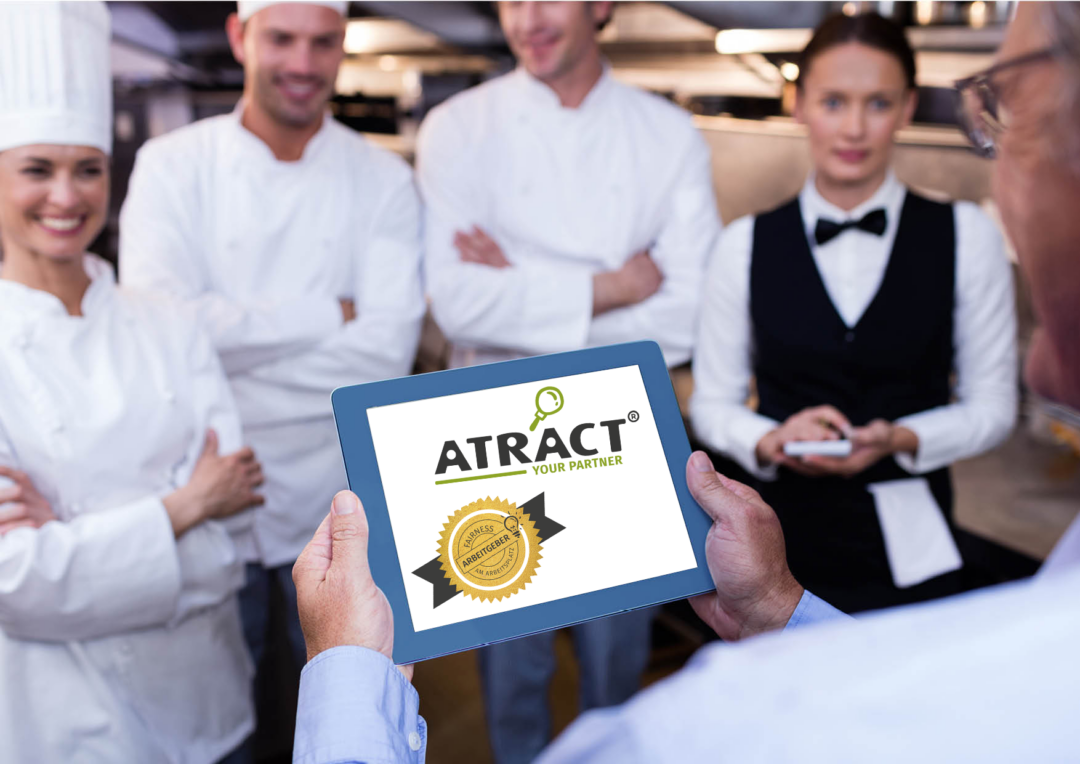 Fairnessprogramm Leistungen für ATRACT-Mitglieder
Unsere Analysen, Workshops und Interviews der letzten Jahre haben gezeigt, dass sowohl bei Arbeitnehmern wie auch bei den Arbeitgebern der starke Wunsch besteht, dass der Begriff "FAIRNESS" messbar sein soll. Arbeitgeber möchten sich nach außen offen zeigen und sich als "attraktiver Arbeitgeber" präsentieren. Gerade viele Fachkräfte haben die Branche verlassen, weil sie sich unfair behandelt fühlten. Mit unserem ATRACT Gütesiegel und klaren dahinterliegenden Parametern schaffen wir Abhilfe und stärken nicht nur unsere Mitglieder als FAIRE Arbeitgeber, sondern gewinnen verlorene Fachkräfte in die Branche zurück. Damit stärkt das ATRACT Gütesiegel nachhaltig den Tourismus.
"Soll-Ist-Analyse" des Betriebs, begleitet durch einen ATRACT Fairness-Auditor
Anonymisierte Mitarbeiter Befragung inkl. Auswertung & Maßnahmenempfehlung
Impuls Workshops zum Recruiting für alle Führungskräfte
Führungskräfteworkshop zur Stärkung der Persönlichkeit- & Führungskompetenz
Das erste Fairness-Audit zur Stärkung des Unternehmens
Unser gemeinsamer Weg zum ATRACT Gütesiegel kann beginnen.
Der Prozess zum ATRACT Gütesiegel ist einfach.
Sei auch du dabei und zeige dich als FAIRER Arbeitgeber! Deine nächsten Schritte im Überblick:
Nachdem die einzelnen Schritte im FAIRNESS-Programm absolviert wurden, erhältst du dein erstes FAIRNESS-Audit zur Stärkung deines Betriebes. Damit zeigst du dich als FAIRER und attraktiver Arbeitgeber.
Durch den Prozess begleitet dich Mandy Engelhardt, FAIRNESS-Auditor bei ATRACT
"Creating a liveable workplace with and for every employee is probably the most challenging and at the same time the most beautiful task we have in the catering and hotel industry!